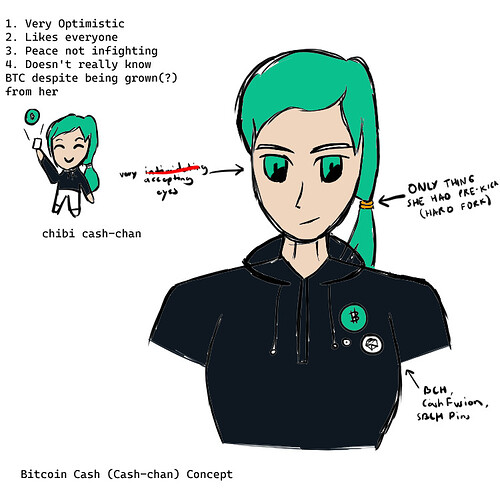 My backstory for her is that Bitcoin-chan goes through various new bodies (hard forks), and during the 2017 fiasco, Bitcoin-chan didn't go for a new body. A lucky day too, since the "body" that she ignored came to life (UAHF) and became Cash-chan. Stripped of all possessions save from one very old scrunchie she uses to tie her hair, she's an everyday woman that wants and likes to go along, helping people out.

Also included is a chibi Cash-chan, Cash-tan.

And yes, the smallest circle is indeed a SmartBCH pin. She took the smallest one since she more or less is kinda… embarrassed on how it's been going.
Any thoughts on the matter? Anyone can use this concept to improve on it or appropriate it for more… aggressive matters.