We're only about 2 MONTHS out from the next Bitcoin Cash upgrade
But the last update to the SHA-Gate repo was 7 MONTHS ago
---
TL;DR
WTF is going on?? I don't understand what the plan is to deal with the very serious "treasury" problem that currently exists with SmartBCH. If SHA-Gate doesn't go live soon after the upgrade, what is the incentive to BUIDL on Bitcoin's EVM sidechain?
No FUD here, I swear; but I've been patiently waiting for this issue to be resolved, but on the surface it looks like it's being completely ignored. I have NO intention of building on a chain financially controlled by a single "for-profit" entity. BSV v2 makes absolutely NO fck'n sense…
This is my very strong personal opinion.
-Shomari
---
A DuckDuckGo search of "SHA-Gate" retrieves these relevant results:
SHA-Gate: Why Wait?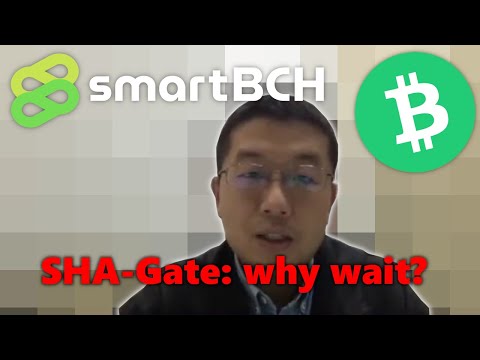 This video features the Legendary Wang Kui




He briefly talks about why we need to wait until the May 15th upgrade to implement a "proper" SHA-Gate. I was most intrigued by the limits he talks about regarding the firmware on the very popular Bitmain miners. Will this still be a problem after the upgrade? I'm assuming so

Okay, so what can we do?
Let's start testing the capabilities of SHA-Gate while utilizing:
the new 64-bit integers
the expanded bytes count
and expanded operation count
ASAP! LIke TODAY!
👷‍♂


IMHO, the alternative is that BCH misses yet another opportunity to attract the stakeholders, BUIDLers and users that are no doubt necessary to bring "VALUE" back to the Bitcoin network.
When I joined BCH back in 2020, it was with the excitement that SLP was mature enough to finally build the services that I could only dream about back in the days of Colored Coins [1] [2].
But now with the future of SLP in questions, it really only leaves SmartBCH as a "viable/practical" solution for builders like myself.
I completely understand & accept that Telegram and Discord are the home for crypto discussions; but not everyone uses those private "walled garden" networks or find their KYC login process to be acceptable

Respectfully, I'm asking for ANYONE with knowledge of this situation to post that information here, in a "public/indexable" forum where others can be informed about the current SHA-Gate status.
By JUNE '22, I'd love too busy for "Summer", because I'm BUIDLing the most incredible services powered-by SmartBCH. And I KNOW there are countless others that would share that sentiment. So let's get this done!
Thanks for reading.
And it's my hope this will be well received as "constructive"

Cheers!
Shomari