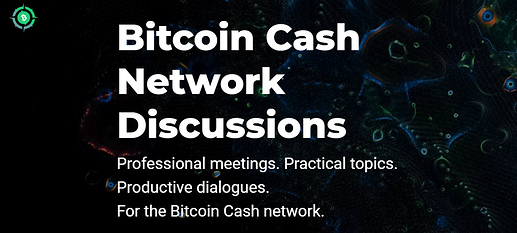 We would like to welcome Bitcoin Cash Network Discussions, a public platform for developers, businesses, miners, and other stakeholders to discuss proposals and topics relevant to the Bitcoin Cash network as a whole.
Bitcoin Cash Research fervently believes that spaces for discussion, analysis, and pertinent brainstorming are essential for the sustainable development and organic growth of Bitcoin Cash.
We encourage the different stakeholders of the ecosystem, be they long-term contributors or newcomers, to actively participate in discussions and sessions brought by this initiative.
In agreement with Bitcoin Cash Network Discussions, we are happy to announce our support and partnership. We make this forum's technical resources and means available to Bitcoin Cash Network Discussions under the criteria that work best to encourage discussion and analysis either before each session and/or provide continuity and easy access afterward.
Welcome Bitcoin Cash Network Discussions!