Right, for efficiency, we choose the code path based on whether the item provided is the reclaim public key or something else. You can see the full execution for miner reclaims in Bitauth IDE – here's the miner reclaim for the first input of a 1-tier merkle tree: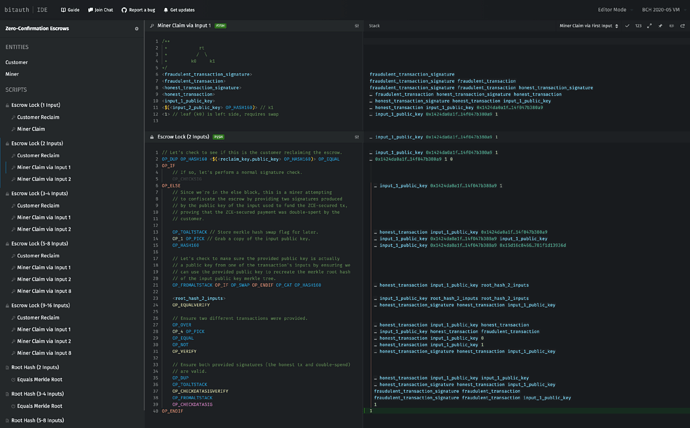 Thanks for digging in to this!
It's worth noting that ZCE replacement is reasonably limited by 1) if there is any replacement, miners will be able to claim the largest ZCE of the available replacements, 2) replacements must take place within 5 seconds (this , and 3) replacements are ignored unless the ZCE grows by at least the replacements' transaction fee (so the processing of replacements always costs a DOSer as much in additional ZCE "fees" as it would cost to create an equivalent-sized transaction).
So with all of that, if replacements ever happen, they pay the network for the trouble.
Even with those limitations, if there is still concern about DOS strategies based on replacing long transaction chains, we can simply disallow the use of ZCE transaction outputs for the 5 second lock-in period. (There's no value beyond 5 seconds, since no honest nodes will accept replacements after that time.)
I'm not sure if it's enough of a concern to justify adding that sort of additional logic, but 5 seconds of delay in the network accepting a transaction re-spending the ZCE output value probably won't even be noticeable by users. (Especially since escrowed funds themselves already require a confirmation before they can be used by later ZCEs.)
I don't have a strong preference either way; I would love to hear developers from the various node implementations weigh in.